Kazakhstan Company Registration Services
Compares to its other western counterparts, Kazakhstan is considered a great location for business prospects because of the affordable cost of living and running a business. Food and rent, transport and utilities are all considerably cheaper and much more affordable in Kazakhstan, especially the office rental space for those who are seeking to open a new business hub in this country.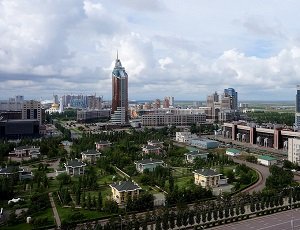 Not only is Kazakhstan an affordable place to run a business, but its strategic location next to two of the world's major economies – China and Russia, with which it has a long-standing trade relationship with – make it a desirable candidate for the eager entrepreneur. China and Russia are not Kazakhstan's only friends, as the country has also established great trade relationships with Italy, France and the Netherlands, opening up even more business opportunities for investors who register a company here.
As Kazakhstan's economy continues to boom, it continues to see a steady inflow of foreign investments into the country since the 1990s. But if you are thinking about setting up a business in this location, you are going to need the assistance of company registration services professionals.
Why Use Kazakhstan Company Registration Services
One of the reasons why a company registration services professional will be of use to investors is because of the language barrier. English is spoken by a small minority of the Kazakhstan people, and all official documents will be required to be translated into the country's accepted official language.
Navigating your way in an unknown market is never an easy task, even more so if the country still has to contend with an underdeveloped court system which could be a hindrance to businesses, especially where intellectual property is concerned. Having an experienced company registration services agency to guide and advice you through the process and help you get accustomed to how things work in Kazakhstan is going to be a huge asset to any investor if they want to successfully establish a company with as minimal setbacks as possible.
Kazakhstan Company Registration & Business Entity Types
Now that you've decided on registering a company in Kazakhstan, before proceeding any further with the incorporation process, you would first need to understand the types of business entity options that are available:
Kazakhstan Limited Liability Partnership – Also known as an LLP, this is the most common entity type that is often used by both foreigners and locals alike as their preferred option for conducting business. In Kazakhstan, the LLP does not subject the business owners to the unlimited liability that may be experienced if a partnership experiences business loss.
Branch Office – Foreign investors also choose to establish branch offices in Kazakhstan and appoint a local representative if they would prefer to first conduct business without having to inject a huge amount of capital from the parent company.
Joint Stock Company – Also known as a JSC, to establish this entity, the company would need at least one director and one shareholder who can be of any nationality.
Representative Office – This entity is allowed to be 100% foreign owned, but it is not allowed to conduct any direct sales within Kazakhstan itself. The range of duties with this entity is rather limited.
Ready to commence business in Kazakhstan? Get in touch with 3E Accounting today to begin your entrepreneurship journey and let us help you make the company registration process as easy as it can be.